Doppelherz aktiv Vitamin D 2000 I.U.
lactosefree
glutenfree
Vitamin D 2000 I.U.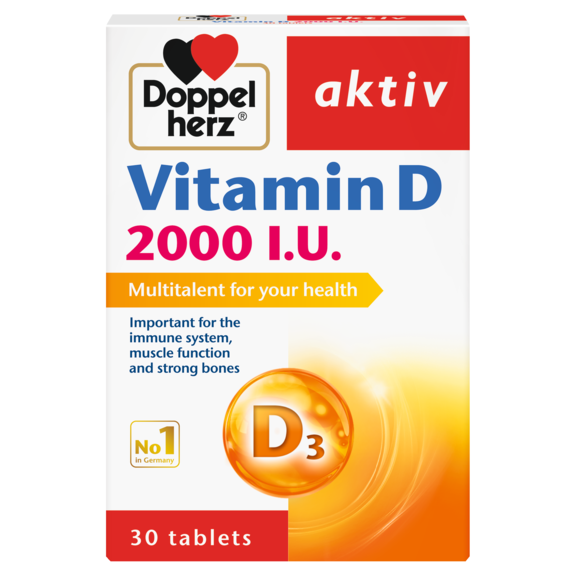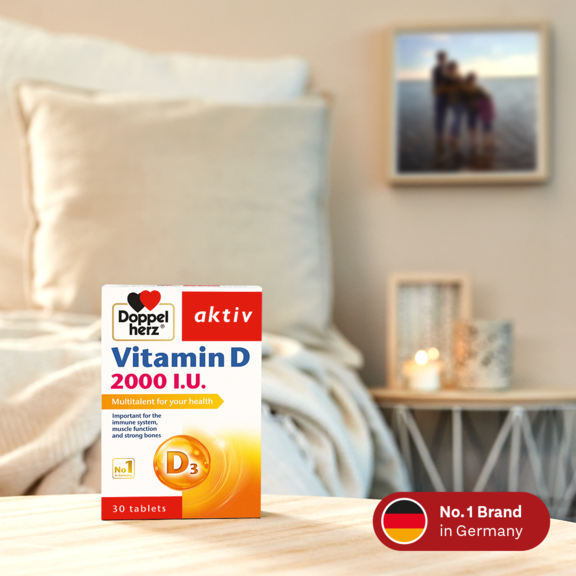 ---
2000 I.U.

Multitalent for your health

Food supplement
lactosefree
glutenfree
---
Multitalent for your health
The essential role of Vitamin D in the regulation of Calcium metabolism and bone development and maintenance is well-known.
Recent research indicates however that the field of action of Vitamin D is not only limited to bone health: indeed Vitamin D also influences function of the immune system; it contributes to normal cell division and supports muscle activity.
Vitamins are essential substances that should be taken in regularly as the body cannot synthesize them. An exemption is Vitamin D3 because the skin is able to produce it by sunlight. The own Vitamin D synthesis depends on the capability of sunlight to reach deeper tissue layers of the skin. A high pigmented skin is less permeable to sun light than a light pigmented skin also the capability of elderly people's skin to synthesize Vitamin D is decreasing.
Daily intake of a single tablet of Doppelherz® aktiv Vitamin D 2000 I.U. helps refill Vitamin D body stores and therefore contributes to improve health and well-being.
Composition
| Ingredients | per tablet |
| --- | --- |
| Vitamin D | 50 µg |
Consumption recommendation
Take 1 tablet daily with enough liquid. Do not chew.
Note
Do not exceed the stated recommended daily dosage!
Food supplements should not be used as a substitute for a varied diet.
The product should be stored out of the reach of children.
Do not store above 25 °C.
Reviews
No ratings have been submitted yet. Submit your first review here.